Main Page
From 856wiki
EAA Chapter 856 Main Page
Chapter 856 is based in Flagstaff, Arizona but serves a large portion of the Northern Arizona region. Our growing membership encompasses several aviation projects, including participation with both Flagstaff and Valle airports, sponsoring youths to the EAA Air Academy, an aviation scholarship and plans for a mentoring program for local students.
Officers, Meetings and Contact Information
Schedule of Events
*** THUNDER OVER FLAGSTAFF ***
Supporting youth in aviation- Air Academy in Oshkosh, Young Eagle flights.
This year's event is August 24, 2019!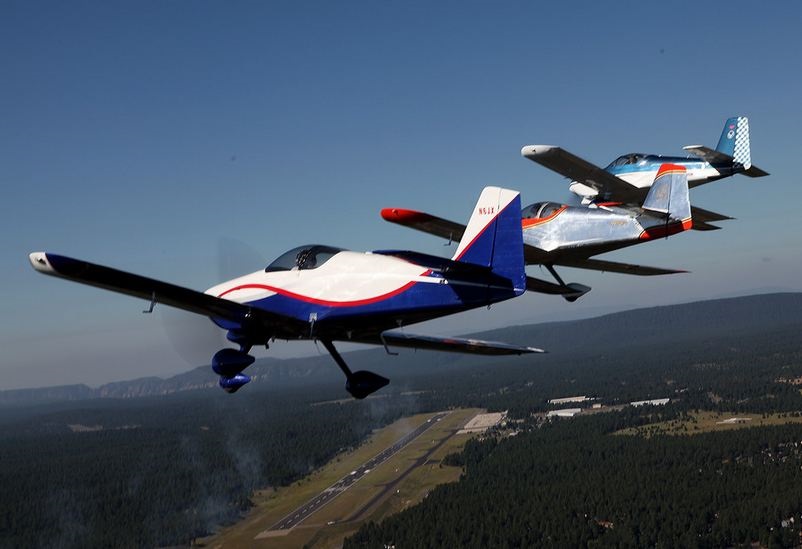 Link to:Thunder Over Flagstaff
Banquet Event information is below
Link to:Banquet
AZ Daily Sun 2016 Event Pictures: Daily Sun
*** Air Academy in Oshkosh, Wisconsin. Local Scholarship ***
EAA Advanced Air Academy Ages 16 - 18
The EAA Advanced Air Academy provides an atmosphere where mature students become totally immersed in the world of flight.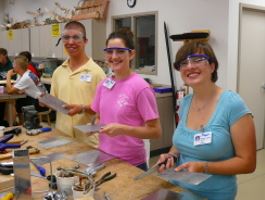 Ground instruction and introductory recreation flight experiences highlight this action-packed camp. It combines "in-the-air" and "on-the-ground" hands-on activities.
The EAA Advanced Air Academy also includes full participation (access to forums, flight-line and all associated activities) in EAA AirVenture Oshkosh - the world's premier aviation event! Local Chapter 856 of the Experimental Aviation Association is seeking candidates to send to the Advanced Air Academy held each summer in Oshkosh, WI. The Academy consists of a week of exposure to aviation topics and is held at the site of the Oshkosh Airventure, aviation's largest event. This event occurs in July 23 - 29, 2018. For more information, see link
Candidates from ages 16-18 may apply. More details on the event, including session schedules and activities. may be found by searching EAA Advanced Air Camp, See link Below.
EAA Chapter 856 sponsorship includes transportation and camp fees. There is no cost to the successful applicant. Application for the sponsorship begins with an essay from the applicant explaining why he or she would like to attend Air Academy.
The essay must be mailed or delivered to Barney Helmick, Manager of Flagstaff Airport, at 211 W. Aspen Ave., Flagstaff, AZ 86001. Deadline for submissions is March 1, 2019. There is no minimum or maximum length for the essay. Please include your birth date on the essay. Previous awardees are not eligible. Age at the start of camp determines eligibility.
Meeting: Every Second Wednesday at 6:30pm - Flagstaff Airport in the Terminal Meeting Room (upstairs).

EAA Calendar of Events - This link allows you to search for nearby events as well as enter events into the EAA calendar, which is seen by a wide audience.
Recent Events
We didn't really skip events last year. It's just that your web editor was busy with college. Let's begin with an important event this year:
Young Eagles Event at Flagstaff - June 29, 2013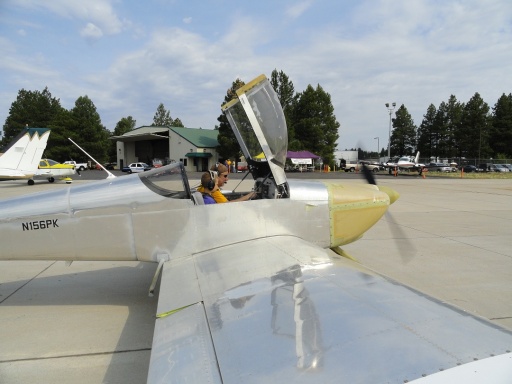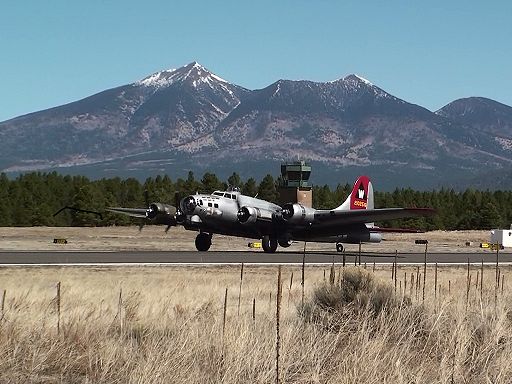 Aluminum Overcast on rollout from its latest high-altitude mission at Flagstaff, with the San Francisco Peaks as a backdrop.
Member's Projects
Youth Outreach
Our chapter invests in getting youth involved in aviation. Currently our efforts revolve around three areas:
Links